I first met Bill on the website www.expat-blog.com in the Puerto Rico forum. He was looking for information on shipping cars down since he and George were in the process of getting ready to move there. We were soon doing a lot of back and forth communicating and a friendship struck up. In April they finally took the plunge and flew to Puerto Rico. They had planned to stay at their friend Alan's place on the west side of the island but complications with an ex wife suddenly put them in a bind. Could they stay at our place? Sure, we said. Why not. And with that we started Skyping on a regular basis from CasaAnolis to Villa Mantua. With that, our friendship solidified and we have become very comfortable with each other. We quickly felt as if we have known them for years. Our interests run in similar veins and our experiences with Puerto Rico have been a great thing to share with them, helping them avoid a few pitfalls.
Their plan was to stay at Alan's place in Marias for a couple of months, look for and remodel a home on the west side. Unfortunately the one property that they really wanted just didn't work out. There were deed issues and survey issues and a real estate agent who didn't seem to care if the place was sold or not. Ultimately they had to abandon it and start looking around for something else and after viewing several properties wound up with a penthouse in Monte Sol at a really great price. I would have never thought that the bank would have taken their low-ball offer on the foreclosed property but there it is! They picked up the their penthouse at less than 75% of the Bank's asking price. Times are tough in the real estate market and they proved that there are still bargains to be had on the Island. It took no time at all for them to close. Once the bank said "yes" they were practically drug to the closing table. I guess the bank was really ready to let it go! I think that the entire process took less than two weeks start to finish, and with that "Thuncles" as they've named it became theirs.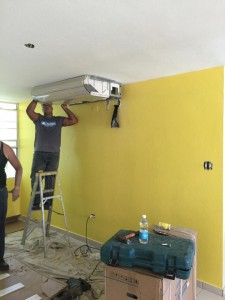 Naturally with a low price comes some sweat equity opportunities (read things need fixing) and they employed Wilbur and Son to do the remodeling for them. Fortunately all of the work is going very well and soon they will have their their very own place in the sun ready to move in to!
First up, the main living area got an inverter A/C unit which is the usual way to air condition the main areas. Because the compressor is outside, only the air handler is visible inside. Because the two parts are separated, the air handler is very quiet. The fan speed is variable and changes only with temperature changes so once the area is cool, it barely ticks over and is basically inaudible.
The bedrooms are set up with individual units under the windows as Puertoricans usually only turn the A/C on at night for sleeping during the hotter months. Bill and George are using our condo as their home base as they remodel theirs and surprisingly, with our main inverter unit on all of the time and using the bedroom A/C at night, the electric bill has stayed well under $200. This is good given the higher cost of electricity. Ruben, our A/C installer said to leave the unit on all of the time for best efficiency and it looks like he was right.
Since their condo is also a three bedroom/two bath, they have plenty of room to spread out and have guests. Also since theirs is a penthouse, the spiral staircase in the living room leads up to a very private mirador with access to the roof over their condo and a beautiful view of El Yunque. It doesn't get much better than this!
Like our bathrooms the fixtures are very basic and cry out for a remodel. They decided to leave the main bathroom as is for the present and concentrate on the master bath. Out came the tub and a tiled shower with a rain forest shower head went in in it's stead. Talk about feeling like you are in the tropics! We are going to have to make a date just to try it out!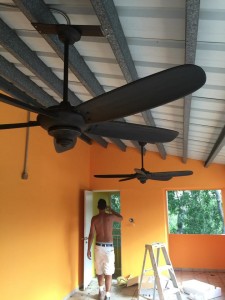 One bedroom will become their media room as they are avid XBox'ers and one bedroom will be devoted to guests. The mirador now has two large fans and will soon have a wet bar with fridge and a hammock for entertaining. With all of the appliances coming in this month, the place should be up and functioning by the beginning of October. Dean and I really wish them the best and we're very pleased to have such good friends close by. We are looking forward to enjoying cocktails with them on their mirador while watching the amazing Caribbean sunsets over El Younque.
Life is good!