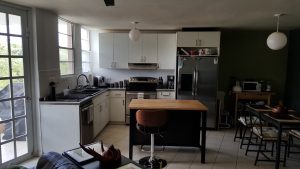 Here are some updated pictures for the kitchen/living room. We took these pictures just as we were leaving. We finally got the replacement island that we wanted from Ikea (naturally) We also bought a matching two-chair table from Ikea that matches the dining table. Our thoughts are that it goes out onto the front terrace when we are there for morning coffee and comes in to be put with the main table to make a seating for six-which is what we've already done and it works perfectly.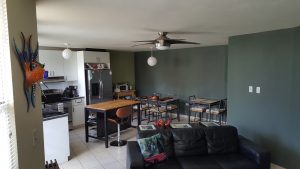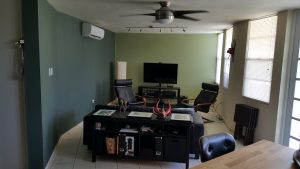 It's now very easy for two of us to move about the kitchen area with plenty of room, which is a far cry from the cramped peninsula arrangement of the stock kitchen.
The microwave and the toaster oven are still relegated to the side cart in the dining area. Maybe we'll have to do something else there, down the road.
We did find bar stools that we really liked at Bed Bath and Beyond a couple of days before we left. They are very comfortable and look great with the woods in the condo. Unfortunately one of them was defective, so Bill and George offered to take it back and exchange it for us-which BB&B did, without any issues.
One other addition was the new TV stand which is a much better piece. The original one was only temporary and we knew that it would be replaced and be relegated to one of the bedrooms. Also on this trip I brought down two of the home theater speakers. Yes, they are the rear channel ones, but they are great-sounding and will do perfectly for now.
With everything basically in place, furnishing-wise, the next set of inside projects will probably be to do some painting in the bedrooms and work on finishing them off. The fun part will be adding the artwork on the walls. We've already started collecting vejigante masks-the kind that are worn at Carnival time. While we are sad that this trip is over, we are happy that the condo is shaping up nicely and we can't wait to get back down!