And so I showered for the last time on the camino. I carefully folded up the go-forward bag and packed my backpack. Down the hill across the highway on a wood-covered steel bridge we went. We had hit the outskirts of Santiago. We stopped for breakfast and our last sellos before heading up the hill to the Cathedral. The short walk into Santiago took no time at all and soon we were standing in front of the Convento de San Martin Pinario. This former convent now turned hotel sits right next to the Cathedral. The Convento provides single and double accommodations including breakfast for a very reasonable price-plus you get the added benefit of enjoying the institutional experience all over again in converted dormitory rooms.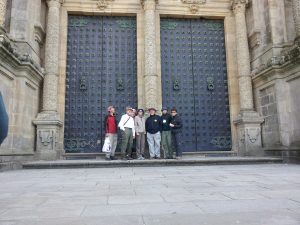 Once settled, we headed out to visit the Cathedral and to get our Compostelas. Obtained from the Pilgrim office one must submit one's Credencial del Peregrino, or passport as some call it, showing that you have started at least 100km from the Cathedral-Sarria at 119km is the usual starting point-stamped and dated each day with at least two sellos for the time walked. The Credencial documents that one has completed at least 100km of pilgrimage on foot. Once verified and attested to, the Compostela is issued. More about the Compostela can be found on this UK webpage:
http://www.csj.org.uk/compostela.htm
Unfortunately the Cathedral's vestibule is under renovation at this time so the main doors are locked. Also the statue of St James on which the pilgrims have worn a hand print in by traditionally approaching the statue on knees and placing one's hand on its base is cordoned off as they are working overhead restoring the Gates of Glory.
The rest of the Cathedral is fully accessible and we wandered about marveling at the ornamentation. It is truly beautiful in its own way. After a bit of poking around we left to check on our reservations at the San Francisco hotel before we headed out for lunch. We settled on a nice restaurant and after lunch I presented each person with a pilgrim patch for their backpacks, which I had ordered before leaving on the trip and had carried the entire way, as a small reminder of what they had done.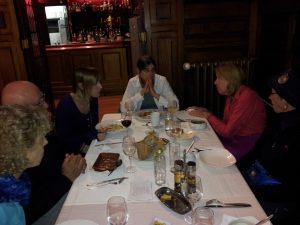 Over the next couple of days we explored Santiago, saw the Cathedral museum, listened to the (incessant) bagpipe playing and in general, mingled with the pilgrims arriving in the square in front of the Cathedral. It was on our second day I think, that while we were in front of the Cathedral that we ran into the couple with the two children from Nevada as well as the two women with the wheelchair. As it turned out, the two women were sisters and were from Poland. They had done more than the full Camino Francais. She and her sister (who has a completely debilitating condition-didn't ask) were delighted to be there in the Cathedral square. It was a humbling experience to see them and if we are to be judged by adversity to overcome, we are all faux pilgrims by comparison. Fortunately the camino is what the camino is, and we all experience it in our own way, none less valid than the next.
On our last night together, Geoff laid out the wonderful canvases that he had been working on both in Morocco and on the camino for all to see.
We gathered in his room and after previewing the works we took a moment with the group to reflect on our experiences on the camino. I think that it is fair to say that the full impact will only be revealed as it unfolds to each of us over time. Memory has a way of jettisoning the unimportant and enhancing the essentials, and with time a new perspective will reveal itself. But for now, I can only say that the experience was one in a lifetime. I could not have imagined that I could spend so much intimate time with a group without any conflicts and if there was any drama, it was nowhere for me to see.
There was naturally more in the days that followed to the Santiago experience. For example, we got to experience the swinging of the incense in the Cathedral. Below is the video that I shot:
We shopped and wandered about. We toured museums, rode buses and Jon , Jim, Alida and I did the pilgrim's meal at the Parador de Santiago, a tradition which you can read about here:
http://indietravelpodcast.com/spain/pilgrim-meal-santiago-de-compostela-spain/
It's an interesting experience with only ten people admitted each night. You get to line up outside the parking garage door entrance for a couple of hours and the first ten are in.
Our night included four people from Korea, An older gentleman from Germany, a young man from the States who was traveling on to other adventures and us. The meal was well, a meal. We were escorted to a small dining room one floor below the main kitchen and then walked up, grabbed a tray and the cook served up the peregrino dinner. This night it consisted of a tureen and a lasagna plus wine and bread.
All in all, it was a delightful time as it was hearing and sharing stories from the camino that was the real prize.
Eleanor and Geoff went off to Cape Finisterre by bus, the seaside final (optional) leg of the camino for a night. They returned the next evening to join us at the San Francisco. That night Geoff unfortunately experienced the one thing that we had been hoping not to find in the camino albergues, bedbugs. The room was clearly infested before he arrived and he woke up, bitten and with the sheets covered in hundreds of bugs. The management was nonplussed, gave him another room and sent his clothes out for cleaning. We suspicion that they must have concluded that he had brought them in. This was quite impossible, given that he had been with us and Eleanor and we had none. Plus, the infestation was severe enough that it could not possibly have come from his backpack in the couple of hours that he had been asleep. Proof of management's suspicion was confirmed when they charged him both for the infested room that night and the cleaning of his clothes. Not a wise management move on their part, even if a hapless guest had brought them in. I offered Geoff my bedbug spray for his backpack plus my skin repellant which I had carried just in such a case. Fortunately they seem to be confined to just that room. On the Louisville group's last day Jon's (and my) friend Joao Clara-Silva arrived in Santiago after a day long bus ride from Lisbon. Jon has been staying with him on and off during this year in Europe and he had been keeping Jon's extra luggage while he was on the camino. Joao had just returned from a work assignment in Angola and had arrived in time for the art show and our last night reveries. Jon and I stayed one more night at the San Francisco but moved over to the Hotel de Fonte de San Roque where Joao was staying for my last night in Santiago. It is a nice, little hotel, quaint with a series of small but nicely done rooms. Very comfortable and best of all, it was 32 euro for a single including breakfast which I did not get to enjoy as I had an early morning flight to Madrid.