Time flies. Just yesterday it seems, we were looking at airline tickets and now we are already back in the States. This was a short trip but a productive one. The first task up was to get Wilbur and Son to do the extensions on the deck and after a few preliminary phone calls everything was arranged.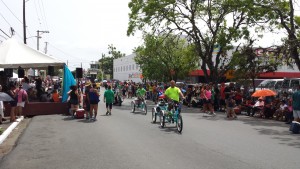 Dean arrived several days before me so that when I arrived on Sunday we were off, with our friends to the Rio Grande festival, right from the airport. Nice. I think that they do these festivals every weekend since it all looked too prepared and every municipality seemed to have a float, but fun was being had by all and we were ready to enjoy.
Monday was car shopping day. With the high cost of renting anything, much less renting something with any capacity like a minivan or an SUV for ten days to two weeks, we pretty much figured that buying a reasonable used car made economic sense for the long haul. Two 24hr rentals book-ending a trip turns out to be even cheaper than getting taxi service from the airport to Fajardo and back. So with car in place our plan is to rent a car from Avis at the airport, drive it to our condo and return it at the Fajardo Avis the next day. Current rates put that at less than $50 each way, compared to $85 each way for the taxi. So, book-end transportation can be had for around $100. Granted it's in an econobox, but it's only a 35-mile trip to/from the airport. This may seem like a lot of work to save a few bucks, but when you figure that a two-week rental of a Ford Explorer runs right at $3,000., it starts to make economic sense for the long haul. Much research led me to choose a dealer over a private party sale and we found a big, blue 7-seat Dodge Durango 4X4 (promptly nick-named Babe) that we fell in love with at a San Juan dealership after finding it on Clasificados Online. Given that we will be using this car well into the foreseeable future, the economics quickly fall in line.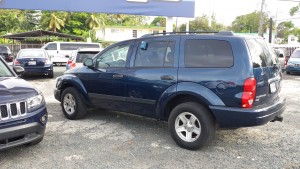 About buying a car in Puerto Rico. For a gringo, a reputable dealership cuts a lot of the uncertainty out. Notice the word reputable. Pick an established one and you will avoid several pitfalls, plus if anything goes wrong you will have recourse. One thing to be concerned about, especially with a private sale is that traffic and toll fines go with the car. Dealing with a reputable dealership avoids that. Also, a dealership takes care of all of the registration issues which I've heard can be a formidable challenge. We opted for a dealership in the end even though we have a Puerto Rican friend on the island who was willing to help us negotiate a private sale. He did look at a few cars for us but they turned out to be in much worse condition than described in their ads. Our expectation of how much we would have to pay for an "island car" more than doubled by the time it was all over. Still, we stayed within budget, even if it was at the tip-top upper end. Babe has a few more miles than I was looking for but given the very few miles that we will put, slightly higher mileage was a reasonable trade-off. One interesting thing is that the one form of ID that everyone seems to want is your original SSI card. I didn't have mine with me but the dealership accepted my passport in it stead along with my NJ drivers license after a bit of discussion.
About Clasificados Online; the ads don't ever seem to expire-either that or a lot of people just don't remove them once their car is sold. Also, they don't date their ads like Craigslist does, so searching for any specific make/model only brings up loads of new/old postings. Other than the "newest to oldest" order of the posts there is no clue as to when they were posted. You can make a lot of calls only to find that the car was sold weeks ago. Craigslist tends to be more gringo-oriented with a preponderance of ads in English and while you are more likely to find an ex-pat listing there, there are a lot fewer ads as the locals mostly use Clasificados Online.
With only slightly more than a week for this trip, I made arrangement with Wilbur and Son before coming down to finish our deck project. We met on Monday and by the next Monday it was done. It would have been done sooner but the Home Depot messed up on the delivery day and we lost a day. I really appreciated that they pushed through into the evening and completed the job on Monday, knowing that we were leaving on Tuesday.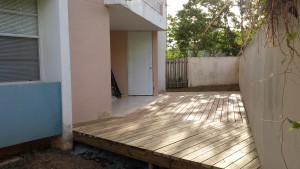 The deck itself turned out slightly different from what we had planned. At first we intended to do it in step-down levels but after reconsideration, we figured that all one level was more usable. One odd thing we discovered was that the wood that the Home Depot sent us was slightly wider than the last batch. This meant that as Wilbur lined up the wood to lay parallel to the finished deck, we discovered that the gap between the boards would start to miss-align with no play to adjust for it. The solution turned out to be to run the boards perpendicular to the outer support beams forming a sort of herringbone pattern with the original deck. As it turned out it was a happy fault as we all think that it looks much better.
The rest of our time was spent with our friends. Dean's friend Rich, a buddy from his Navy days who currently lives in Denver joined us along with Bill and George who are staying at our condo as they home search. They have recently moved to Puerto Rico permanently and are looking at several properties. Currently they have looked in several areas including Monte Sol which seems to now be on the upswing. The announcement in December that the master planner has been selected for the Roosevelt Roads seems to have sparked serious interest in the area. Apartments in the complex which have been on the market for a while now are heading to the closing table, as we had figured would happen once solid news on R-R's redevelopment got out. This can only be a good thing. We did make it out to a couple of the local Fajardo restaurants, including La Estacion, a converted gas station with truly great local cuisine,
Las Vistas Cafe, a rooftop terrace cafe that only does breakfast/brunch which is really great with an amazing view of the ocean, and La Tasca Ole-Lelolai, a Spanish/PR tapas place. Again, a cool place with a great view of the Fajardo harbor and tasty food. We've added all of these places to our Guests page so that you can find and enjoy them.
On Saturday Bill and George took us to the Rincon area on the west side to visit their friend's farm and to look at a house with land in the hills of Las Marias which they have been looking at. Unfortunately the deed to the property has issues and no-one seems willing to straighten it out. Their experience with the real estate agents has not been good. The agent is very laid back about responding to their requests for information. The area around the house is beautiful, if a bit isolated, with some spectacular views. After seeing the property we went to their friend's farm where Dean took some great pictures of the flowering plants and trees that have been put in.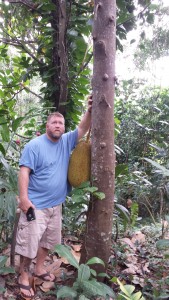 While there Bill walked us back to where there was a jackfruit tree and we cut one of the jackfruits. As you can see in the picture, they grow off of the trunk of the tree and are quite large and heavy. This one was about 40+ lbs., but they can grow upwards of 80 lbs. Interestingly, this is the fruit from which Juicy-Fruit gum gets its flavor. We took it back with us, harvested half of the fruit and gave the other half to Wilbur and Son. The fruit is very tasty by itself but the pod gives off a slightly funky smell that permeated the car and the condo until we gave both a good airing out. We grew a little tired of the funk, especially since we arrived back late on Friday and had left the pod in the car. Not a good move. I think that the funk comes from the rind and the latex sap that can get all over the place, if you are not careful. The actual fruit is mild in smell by comparison to the rind. Since we harvested way too much, we decided to freeze a good portion of it and turn the rest into daiquiris. Dean played mix-master and whipped up a concoction of cantaloupe, strawberry, passionfruit, pineapple, coconut milk, jackfruit and rum to treat us to the first ever "Casa Anolis Daiquiri". Yum! It was good!
And if this trip wasn't jam-packed enough with projects and adventures, early on Tuesday our departure day, Bill and George received a return call from an agent for Banco Popular which owns a couple of the condos for sale in Monte Sol and we accompanied them to look at the places before heading off to the airport. By the time that we had touched down in Philly they had met with the agent again and had put an offer in on the first penthouse that we toured that morning. Hopefully by the time we get back down we will have new neighbors in Monte Sol and we will be able to run over to their place with an encore pitcher of Dean's Casa Anoils Daiquiris!