Last week I made Burgers for dinner.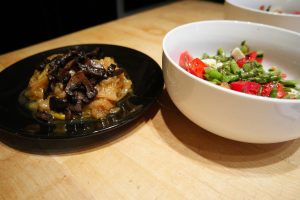 Farm-stand fresh asparagus, tomato, basil and fresh mozzarella salad dressed with olive oil and balsamic vinegar. The mess on the left is a cheeseburger patty smothered in caramelized onions and topped with crimini mushrooms sauteed in butter and Madeira.
I've discovered a great way to season the burgers and it works with ground lamb too. I start by making the patty, then putting a decent amount of fresh cracked pepper on the patty, and folding that in half. I then Reforming the patty and pepper the outside again. Then I let it rest for at least 15 minutes, but preferably an hour. Then pan sear.
This weekend I did this again but with lamb burgers for the guys. We then topped with triple-cream brie and the caramelized onions. Soooo amazingly good.