This visit to Casa Anolis didn't exactly turn out as planned. We both unexpectedly came down with the same cold which we probably caught at the airport and that threw a wet blanket over everything for about six days in the middle of the trip, so the list of projects ground to a halt and we went into recovery/vacation mode. The house projects will just have to wait. I had things to do to Babe including getting new tires, grille replacement, interior parts and swapping out a new steering wheel. I tackled them right away before the cold donkey kicked me hard and I was glad that I did.
The one thing that we did new was to visit the Pueblo Supermercado in Carolina upon arrival. It is located right outside of the airport exit and is very convenient to get to. Once a large chain, after bankruptcy Econo bought this 24/7 flagship store (conveniently right next to Econo's headquarters) and it is now our must-stop when we arrive, which is generally in the late evening. It is fully stocked with stateside inventory which I am sure is deliberate to appeal to the local gringo/tourist trade in the Carolina/Isla Verde area. English is well-spoken here!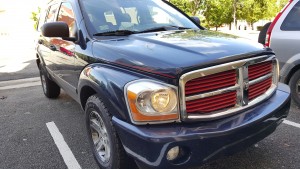 Since our last trip, George, who had picked Babe up from the dealer (new transmission, as it turned out-and at the dealer's expense) and who has been exercising the truck for us, discovered that the heater blower motor sometimes sticks off and that there is a mysterious clunk in the rear end which we later diagnosed as a worn Watts link. Fortunately these are both easy fixes and I will be bringing the parts down on our next trip. Once those repairs are done Babe should be a roadworthy beast for the next several years.
Since we had arrived the Sunday before Thanksgiving, I figured that there would be plenty of time to go grocery shopping for turkey day. Yes-and no. I found the turkey right away. We decided to do a smoked turkey on the grill, something of a crowd pleaser back home. The smallest one that I could find was just north of 12 pounds, which fitted in our grill nicely once it was spatchcocked. Doing the bird whole was too much and it really doesn't yield the best results. The spatchcock method of removing the spine and flattening the bird out guarantees an even cook on all parts. I personally hate dried out turkey breast that tastes like cardboard, something that spatchcocking prevents. OK, so the turkey was easy enough, but that other must-have component was a no-show. What's Thanksgiving without cranberry sauce?! Forget fresh cranberries-I really didn't expect to find them, but I couldn't find the canned stuff either in any of the grocery stores that I looked in. In desperation I walked up and down the isle at Ralph's scratching my head-and then I stumbled across a small bag of Ocean Spray Craisins, which are dried cranberry bits. Go figure. No cranberry sauce but oddly this sole snack-sized bag was sitting on a shelf in the snack section. Either it was left over from some forgotten inventory count or every other gringo within 20 miles had snapped up the remaining stock. OK, a start. Now what to do. This tiny bag was not going to magically transform into that condiment that we all know and love. Mmmmm…when in doubt, improvise. So I sidled up to the section with 43 thousand cans of Goya guava paste and snagged me up one. By gosh, we were going to have cranberry sauce or something like it! Back at the apartment I emptied the contents of the bag into a bowl and gave it a good bath with red wine to plump the pieces up. Once they had swelled up and were reasonably soft, I added the guava paste, a little cinnamon, a bit of nutmeg and voila! Caribbean Cranberry Guava Relish! Another tasty improvise to remember for the future.
Babe did get a workout this trip as we went to several places including down to La Parguera, located on the southern/western part of the island. This little fishing village has become a local favorite for its water tours. The town itself has some very nice shops and restaurants and that alone is enough to warrant a visit, but our attraction lay offshore. There are about 30 cays located in and around the bay and they are easily reachable by small boat within less than a half hour or so. On a previous trip we did a group bio-bay and snorkeling tour (La Parguera has one of the three bio-bays on the island) but this time we opted to rent a small power boat and to do the cays on our own.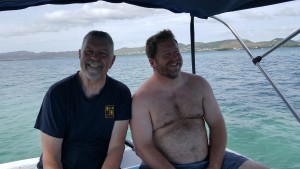 We did some snorkeling but there really wasn't much to see. In all fairness, we did't go everywhere and this isn't a protected area like the National reef that the SS Tobias took us to-more on that later. I would like to learn the area better and see if there aren't some decent snorkeling spots because this is really a great area, very much worth the time to get to know it better. One nice thing we did was to take our cooler with us loaded with drinks and sandwiches and we had nice lunch in a picnic area run by the Forest Service on one of the cays.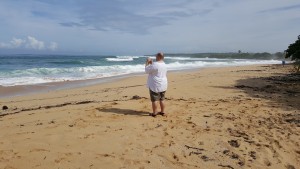 We also headed back to Playa Puerto Nuevo, a great beach with some pretty nice snorkeling we discovered on a previous trip. Dean has underwater video footage from a previous trip as well as footage of the waves as they crash over the barrier rocks at one end. The very large protected pool behind the rocks is a great place to take young kids as it is so protected from the ocean. The pool is filled by the water crashing over the rocks and the tide changes. It does not have any large openings directly into the ocean and that means no currents, very calm and clear water with an expansive sandy bottom. Plus, the trapped water stays remarkably warm, even in the winter months when the ocean becomes a bit cool. Even the big kids like this spot. The locals treasure it and it's well worth seeking out. After we left Puerto Nuevo we headed west over to the Puerto del Tortuguero beach for a very different experience. The waves were up as they are in the Atlantic this time of the year and a surfing competition was in full swing as we strolled onto the beach. That's the great thing about the island; no matter what sort of beach/surf experience you want, be it calm, warm swimming waters or great surfing waves, it's all available within a couple of hours drive.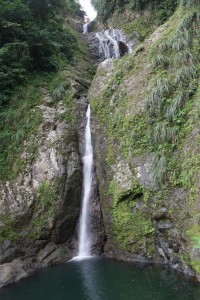 After we left the beach we headed out to lunch and then up and over the mountains to the southern side. And again, this is the amazing part; one hour you are at the beach and the next you are on a windy, twisty two-lane road headed into the sky where lush green forests, cool winds and stunning vistas await you at every turn. It really is pure magic.
Once we hit the main highway we headed down to Ponce and out to La Guancha, the malecon (boardwalk). Its always a treat to visit if for nothing else but to see the big fish fight for food along with the pelicans-both of which may be too familiar with humans for some! They can be pretty aggressive-especially the pelicans-for handouts. The malecon has lots of places to eat, get ice cream or piragua (shaved ice with flavors) or just chill with a margarita. And at one end there is a tower that you can climb to get a great view of the island.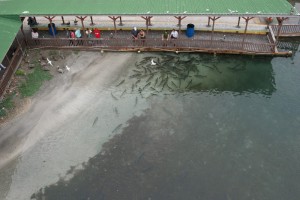 While we were there it looked like several members of the local VW club were gathering for an outing. There's a big VW bug/van following on the island and one of the largest VW museums in the world, Volkyland is in Yauco, between Ponce and La Parguera. We didn't get a change to do it this trip but it is on the bucket list.
We also did an obligatory run to El Rancho Original for roasted pork. Bill and George had not been there so it was a new experience for them. This time the town was hopping with live music and there were parties going on in several of the places. There were a couple of tour buses so something was happening. Lots of people and music. Fun times were being had but it was a bit noisy so we took refuge in the park-like setting behind and below the restaurant where they have open pavilions with tables and seating. It was just enough distance to enjoy the music but not be overwhelmed. As usual, the pork was yummy and we had our fill.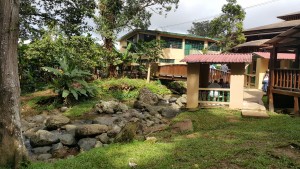 On the way back down we stopped into a small art studio shop where the guys picked up a piece of local sculpture for their place.
These trips are a lot of driving, you can easily put a couple of hundred miles of tarmac under the tires, but all are doable in a day with some careful planning. Start early, have a couple of destinations in mind and just don't wind up around San Juan during rush hour.
But we didn't just do driving this trip. One of the things that we wanted to do was to experience snorkeling off of Fajardo. If you look at Google Earth, there are several cays and islands between the mainland and Culebra. These have some spectacular white sandy beaches and are known to be great snorkeling spots. We were going to rent a boat but decided that our best introduction would be with a charter. We settled on the SS Tobias because it was reasonably priced at under $100 per person (for four of us) for a day's excursion to both the Carlos Rosario Natural Preserve (beach and coral reef) and Culebra's Flamenco beach, inducing lunch and drinks.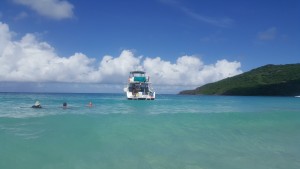 We all thought that it was a great bargain and would recommend. Our snorkeling included swimming with sea turtles and gently floating around and through the living coral reef with its myriad of colorful fish. As the area is highly protected, you are warned not to touch anything or take any souvenirs. Also, reef safe sun block is recommended, something that everyone who swims in these areas should be using. We are way too pale to spend any time in the water without substantial sun block and rather than slather gobs of product, we opt for swim shirts (and T-shirts) for protection and then do the backs of legs, arms, face. And yes, we wear hats, too.
As far as projects this trip went, we didn't get much beyond hooking up the stereo equipment that we had lugged down in the suitcases. Bill and George had gifted us three new a/c units for the bedrooms as an exchange for their staying in our place while house-hunting and apartment renovation. I did open one up and after measuring, realized that I had taken my tools back to New Jersey and didn't have what I needed to widen the a/c openings under the windows. Oh well, next trip. In the meantime they will sit in their boxes. I did manage to put the new smoke detectors up so I guess that I did something after all.
We went into San Juan for our last full day to go to Plaza del Mercado down in the Santurce section. This is the art area where all of the happening, trendy stuff goes on. There are loads of restaurants in all price ranges with the historical Mercado in the very center. Unfortunately we found the Mercado disappointing. Most of the stalls were closed and the ones that were open didn't have anything that could not be found at Ralph's. Maybe our timing was just off. In all fairness, our agenda is to find a great market to buy all of the local produce from. When we have more time we are going to be exploring the island's fresh produce markets.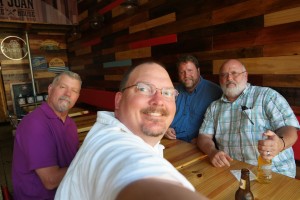 But, there is so much more to the area than the Mercado. In fact, that's no longer the big attraction. Santurce is the resident art barrio with a strong local flavor. At night and especially on the weekends crowds of young people spill out into the streets and all kinds of lively music pulses from the bars making it the most trendy part of the city for nightlife, attracting mostly locals and some tourists. We strolled about a bit and then settled on the San Juan Smokehouse for lunch. OK, so that might be a bit of an "off Island" choice but hey, good barbecue is, well, good barbecue-and I am a big fan. We settled in with a few beers and ordered up. I had the three tacos and yes, they were good. No, it wasn't the barbecue choice but that's for next time. Speaking of barbecue, you see it all over the Island but it's not what you would expect, i.e. slow-roasted meats with a thick mop of sauce on top. Barbecue here refers to rotisserie cooking, whether it be pork or chicken, cooked whole and the only addition is salt. Sauces or condiments are always on the side and they are different from what you would expect. If you are looking for that sweet, tomato-based sauce that we all know and love then you have to come to some place like the San Juan Smokehouse as this is a gringo import. While getting ready to leave I started to study the record album covers stapled in a collage on the wall above our heads. My staring must have been noticed because the owner came over and introduced himself and we had a great conversation about music as I recognized (and had) some of the records. As it turns out he isn't a native of PR, he's from St Louis. Gringos, you just can't get rid of them! We ended the meal with an obligatory selfie of the group and then strolled the several blocks from Santurce down to the Condado beach for a final day's glimpse of the San Juan shoreline. The weather was perfect, the wind was cool and breezy and I started to feel homesick for our return visit.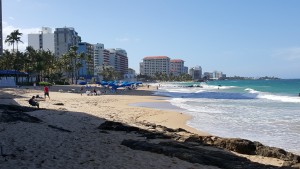 Naturally, in the last several days of this trip we were over our shared colds and were sad to be leaving again so soon. This trip was rather long for us but still it just left us wanting more time. That's the way it will be, I guess, until we are permanently there. So, until our next trip scheduled for April we'll just have to be content plowing snow out of the driveway (blizzard of '16) while dreaming of the warm sands of Puerto Rico.