The next morning Alida was well hydrated and felt very much better and resisted our suggestion to take the bus to O Pedrouzo. And so it was. We were off again retracing our steps about a km to rejoin the camino. As we broke again in and out of little groups. At one point. Eleanor and I wound up walking together mostly because we had become completely enamored with the wonderful variety of mushrooms everywhere and our incessant stopping to take pictures caused us to lag way behind the main group.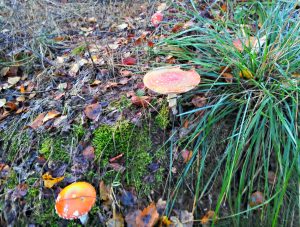 At some point Mary Jane joined us and we all walked together happily chatting about just everything and snapping mushroom pictures. Soon we left the forest section that we had just walked through and came across Geoff painting an old house with a for sale sign on it. Knowing that he needed to work, we waved and walked on up the road to a point where we could cross under the road and stopped at a pilgrim fountain just on the other side for photos.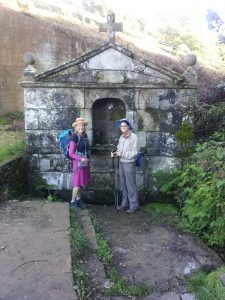 Then, just a couple of hundred years beyond, the chapel of St. Irene sat nestled under a clump of trees. Unfortunately it was closed so we continued on after a few more pictures. Within a couple of km our walk then took us through the small town of Rua, one of those pretty, peaceful one road towns that makes you want to give everything up and just move right in, spend the rest of your days painting pictures and making bread coupled with afternoons sitting in a garden sipping wine. The stone walls were covered with crawling vines with beautiful purple flowers and the whole town had the air of a Disney movie come to life. It was there that I saw for the first time an open horreo and realized that it's current use was as a corn crib. There was an albergue at the edge of the town and I so wanted to call out to the others that this was the place to stay! But we had our backpacks and the go-forward bag waiting for us up the hill, so sadly we walked on away…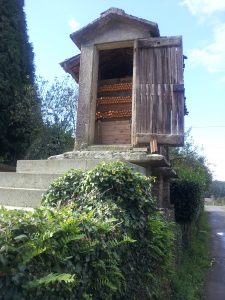 We arrived at the O Burgo to find our backpacks waiting. We checked in, picked our bunks for the night and then Eleanor, Mary Jane and I set out for some lunch. After scoping out the town we settled on the Galaicos bar and here I made another culinary observation: The Spanish do fried calamari just like I like it. So, it's no to Italian, si to seafood! Geoff joined us when we waved him in from the street. Afterwards we visited a supermarket. We picked up a cheese wheel with a seashell in relief on the top-something that we were sure that done specifically for the tourist pilgrim- that actually turned out to be quite tasty plus cold cuts, wine and sodas for the group for later. Eleanor had become addicted to the Kas lemon sodas and was now craving them at every stop so now they were a must-have. We also had found a little pastry/bread shop and we added pastries along with bread to the mix. That night we all dined alfresco in the front reception area as there was no kitchen.