Today a couple of us walked Luba to the bus area and as we waved goodbye, we wished her the very best as she headed to Santiago on her journey to Canada. We all agreed that she had been a wonderful companion for the very brief time that she had walked with us, and I believe that a new friend had been added to the group. I think that our paths are destined to cross again. After seeing her off, we headed back to the albergue to get ready for departure. Sharon's knee was no better and given the terrain ahead, she decided to take the bus to Salceda. After a quick breakfast of coffee and pastries we saw her onto the bus and then set off once again on the camino.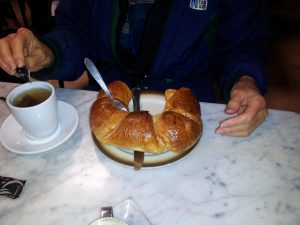 As it would turn out, this section had some pretty steep and rocky climbs that had us all breathing hard, so her decision was the correct one. After walking several km we stopped into the Calazed bar for coffees. While there, a man at the table next to us, noticing that some of us did not have backpacks, made rather loud remarks about faux pilgrims, who only start a Sarria and ship their backpacks every day. I was not at the table at the moment and only heard this later, but if I had, I certainly would have given it back to him because as I recalled that he was in nice gear and had a cell phone with him. Since he was also not travelling in the true historical pilgrim style-a begging bowl, a water gourd, maybe sandals and some sort of body wrap and he certainly appeared to be able to afford to do the camino any way he wish, his observations came across as simply mean-spirited and uncalled for. The camino, as I had been informed in all of my research, is yours to do. There is no right or wrong way -well, maybe no bikes… 🙂 as it is an individual journey. Even Sharon with her knee problem forcing her to take a bus was as valid a pilgrim as any one of us-or anyone else who has or will walk the camino. The journey simply is, as I had come to realize. This is the camino. And it is your camino, to be done your way. Later Louba remarked that if this was his state of grace, he should walk to Santiago and go all of the way back until he understood the meaning of the word "charity".
With this behind us we started off again only to stop for another "rest" rest stop a little ways up the road. While there we met yet more Americans, a couple from Nevada with two young children. After a fairly short day of walking we took a slight detour off the camino and arrived at the Pousada de Salced, a nice, very modern albergue attached to a small family run hotel with a bar and a nice, large enclosed dining room that also functioned as a dance floor, as the sound system and disco ball lights attested. Even in Spain the get down and boogie! That night we all dined in the large dining room to very nice dishes, only to be interrupted by Alida stealing the scene: It seems that she was not feeling well, had taken cold medicine, drunk wine and had failed to keep herself properly hydrated during the day. One minute she was sitting across from me and the next she was slumped over onto Mary Jane. She had clearly fainted right on out. We placed her on a couple of chairs and elevated her feet to help restore blood to her head and soon she came around, but not after giving us a big scare! We made her promise to drink plenty of liquids from now on out and took her off to bed to rest. The owners were very concerned and gracious about everything, and dinners that had grown cold during this were returned to the kitchen and new ones served. Unfortunately Alida was not to enjoy one of the better pilgrim dinners that we were to have.